The KC&M Farm
We live in a country today where only a small percentage of people call farming or ranching their vocation.  The state of Texas has the largest number of farms and ranches in the nation, covering over 130 million acres. Texas has long been thought of as a "cowboy state," but only a small number of its residents actually live an agricultural lifestyle. Just 14% of Texans work in a profession related to agriculture, and a mere 12% reside in rural areas.1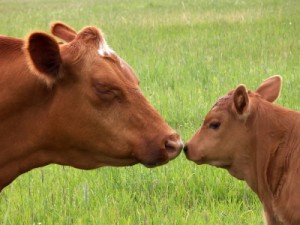 There are many areas of specialization in the agricultural industry.  Individuals involved in agricultural production today often choose to focus on one aspect of farming or ranching.
Kids, Cows & More seeks to offer a comprehensive hands-on farm experience with exposure to crop cultivation, and the care of large livestock such as beef and dairy cattle, as well as smaller animals like pigs, sheep, and chickens.  We will also offer a glimpse into the agricultural heritage and traditions on which our country was founded.
Kids, Cows & More wants to share this knowledge and these new experiences with you, your family and friends.
You will discover: 
Where the milk you drink comes from.
How a cotton plant becomes cloth.
How crops are grown and harvested.
How sheep are sheered and wool is made.
The journey an egg takes from farm to grocery store.
You may experience:
The feel of a calf's tongue as he eats grain from your hand.
The wonder of seeing a new foal take its first steps on wobbly legs.
The fun of picking the perfect pumpkin for carving a jack-o-lantern.
The sweet aroma of freshly mowed hay.
1Texas Farm Bureau via txfb.org, September 28, 2010.